Carrie Roundtree Joins KITCO Fiber Optics
March 23, 2021
We are pleased to announce that Carrie Roundtree has joined KITCO Fiber Optics, part of the Marmon Aerospace & Defense Group, to lead KITCO's Inside Sales Team. In her new role Carrie will have responsibility for providing day to day direction to the Inside Sales and Supply Chain Team and ensuring world class customer services to KITCO's customers.
We are excited to welcome Carrie as she comes to us with extensive sales experience, most recently as Business Relationship Manager for a highly respected international manufacturing firm and certified Lean Six Sigma Black Belt.
"I am confident that Carrie will be a fantastic addition as we continue to grow our team of talented employees and work diligently each day to earn our place as the best in the industry at what we do," said Chris Pegge, VP Business Development.
Please feel free to reach out to us and find out more about what KITCO Fiber Optics can offer for your high performance interconnect needs!

Direct Inquires to:
Chris Pegge
chris.pegge@kitcofo.com
---
About Marmon Aerospace & Defense Group
Marmon Aerospace & Defense Group proudly supports the defense industry for Land, Sea, Air and Space applications through its brands (KITCO Fiber OpticsTM, CableUSA, RSCC A&D®, Surprenant®). Offering a full range of connectivity products and services, including custom wire and cable, coil cords, cable assemblies, tools, testing and training and installation services. Your one-stop-shop for harsh environment connectivity solutions.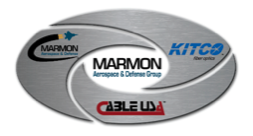 ---
 Connectivity Delivered
DCAA Approved Accounting System