KITCO Fiber Optics Supervisors Receive Department of Defense Patriot Award
02/15/19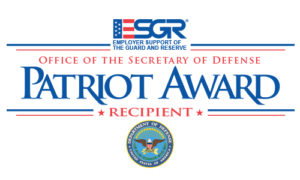 NATIONAL CITY, Calif. – California Employer Support of the Guard and Reserve (ESGR) volunteer Jeremiah Irvin presented Holly Andrews and Megan Golian, both supervisors with KITCO Fiber Optics, with Department of Defense Patriot Awards. Andrews and Golian were recognized with the awards because of the extraordinary support they provide their California Army National Guard employee, Sgt. Omar Martinez.
"The Patriot Award was created by ESGR to publicly recognize individuals who provide outstanding patriotic support and cooperation to their employees, who like the citizen warriors before them, have answered their nation's call to serve," said Jim Combs, California ESGR state chair. "Supportive supervisors are critical to maintaining the strength and readiness of the nation's Guard and Reserve units."
ESGR, a Department of Defense program, seeks to foster a culture in which all employers support and value the employment and military service of members of the U.S. National Guard and Reserve. For more information about ESGR outreach programs or volunteer opportunities, visit www.ESGR.mil.
 Want to join the KITCO Fiber Optics Team?
More Info
---

 Connectivity Delivered
DCAA Approved Accounting System