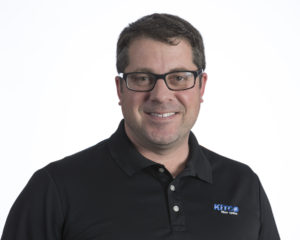 Gregg M. Kruer is KITCO Fiber Optics' Director of Business Development.  He joined KITCO in 2003 as a Kitting and Fabrication technician earning his Fiber Optic Installer and Fiber Optic Technician certifications.  He was one of the original fiber optic technicians for a fledgling Field Service Department, and later promoted to Senior Field Service Technician, Installation Team Lead, Project Manager, Field Service Program Manager (2013) and eventually to Director of Field Services in (2016).
Mr. Kruer obtained certification as an Electronics Technician Association (ETA) Fiber Optic Designer (CFOD) and Registered Telecommunications Project Manager (RTPM) as well as completing Systems Acquisition Management course through The Defense Acquisition University (DAU).
Throughout his career at KITCO, he is credited with establishing our West Coast operations, and transitioning our field service business model from Task Based Purchase Orders to DOD Contract Driven Purchase Orders.
In recognition of his expertise, business acumen, strategic planning skills and ability to develop and cultivate business partners, he was promoted to Director of Business Development (2018).
---