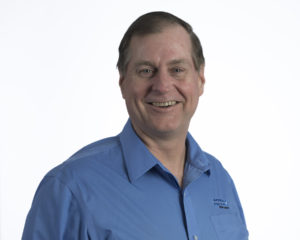 Kevin Barks joined KITCO Fiber Optics in October 2002 as a Fiber Optic Instructor and Curriculum Developer. Kevin retired from the Navy after a twenty-year career as a Navy Fire Controlman and advanced to Chief Fire Controlman (FCC). Ten of those years he served as a technical instructor in the fields of Micro-Miniature (2M) repair, advanced electronics and fiber optics. Along the way he obtained a Bachelor of Science degree from Excelsior College N.Y. Kevin's last tour of duty was as a Branch Head at Fleet Training Center, Norfolk where he was responsible for the instruction and curriculum development of the Navy's fiber optic repair course. Those five years provided the foundation for his expertise in the field.
Kevin took a position with KITCO Fiber Optics as a fiber optic instructor and curriculum designer. Kevin developed many courses for various companies and taught thousands of personnel who perform installation, repair and oversight/QA work. Kevin's latest achievement was in developing a modular pipeline of courses for the NAVSEA certification program that is required of all individuals who provide fiber optic installation and repair services for ships and submarines for the US Navy.
KITCO is proud to announce that Kevin has been promoted to the position of Manager of Training. Kevin looks forward to a bright future in this new role.
---