Boeing Insitu ScanEagle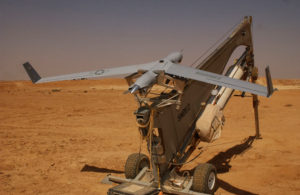 The Boeing Insitu ScanEagle is a small, long-endurance, low-altitude unmanned aerial vehicle (UAV) built by Insitu, a subsidiary of Boeing, and is used for reconnaissance.  The ScanEagle was designed by Insitu based on the Insitu SeaScan, a commercial UAV that was intended for fish-spotting. The ScanEagle continues to receive improvements through upgrades and changes.
Design and development
ScanEagle is a descendant of another Insitu UAV, the Insitu SeaScan, which was conceived of as a remote sensor for collecting weather data as well as helping commercial fishermen locate and track schools of tuna. ScanEagle emerged as the result of a strategic alliance between Boeing and Insitu. The resulting technology has been successful as a portable Unmanned Aerial System (UAS) for autonomous surveillance in the battlefield, and has been deployed since August 2004 in the Iraq War.
ScanEagle carries a stabilized electro-optical and/or infrared camera on a lightweight inertial stabilized turret system, and an integrated communications system having a range of over 62 miles (100 km); it has a flight endurance of over 20 hours. ScanEagle has a 10.2-foot (3.1 m) wingspan a length of 4.5 feet (1.4 m) and a mass of 44 pounds (20 kg) and can operate up to 80 knots (92 mph; 150 km/h), with an average cruising speed of 48 knots (55 mph; 89 km/h). Block D aircraft featured a higher-resolution camera, a custom-designed Mode C transponder and a new video system. A Block D aircraft, flying at Boeing's test range in Boardman, Oregon set a type endurance record of 22 hours, 8 minutes.
ScanEagle needs no airfield for deployment. Instead, it is launched using a pneumatic launcher, patented by Insitu, known as the "SuperWedge" launcher. It is recovered using the "Skyhook" retrieval system, which uses a hook on the end of the wingtip to catch a rope hanging from a 30-to-50-foot (9.1 to 15.2 m) pole. This is made possible by high-quality differential GPS units mounted on the top of the pole and UAV. The rope is attached to a shock cord to reduce stress on the airframe imposed by the abrupt stop. NavtechGPS worked with the manufacturer of the GPS receiver system to enable the system to work in different environments, expanding the capabilities of the UAS for different mission types and areas of the world. The GPS receiver system NavtechGPS designed for the ScanEagle™ is still in use today.
Each ScanEagle system costs US$3.2 million (2006). A complete system comprises four air vehicles or AVs, a ground control station, remote video terminal, the SuperWedge launch system and Skyhook recovery system.
---

 Connectivity Delivered
DCAA Approved Accounting System