As of January 1, 2018, NAVSEA certification is mandatory training for any person that is currently or has the potential to perform Navy Shipboard fiber optics installation.
Click on the links below for our training schedules east and west coast, registration and our informative brochure. All our trainers are certified and approved by NAVSEA.
---
 Flexible Fiber Optics Certification Training…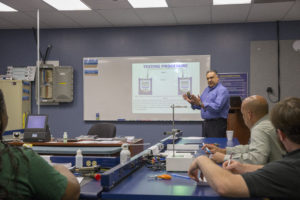 KITCO can train your people in YOUR facilities! Call us at (866) 643-5220 to schedule your class now!
---

Browse our Training Brochure
---
Certification Course Details
NAVSEA
Aviation/Aerospace
General Cable
Electronic Technicians Association
---
Class Schedules / Course Registration
East Coast Schedule
West Coast Schedule
Course Registration
Training Brochure
---
Questions? Call Us! (866) 643-5220
---

 Connectivity Delivered
DCAA Approved Accounting System •  AS9100D | ISO 9001: 2015 Certified