US CAPITAL: (working on 'The Hill')
In 2008 KITCO was brought aboard to help with the transition and relocation of both the House of Representatives and Senate recording studios to the Capital Visitors Center.  To be a part of a high-tech upgrade taking place in our nation's most recognizable landmark was truly something special.
KITCO played an instrumental role in providing a more robust fiber optic design solution that would not fail while communicating high definition streaming video.
We performed thousands of fusion splices and acceptance tests to ensure and objectively demonstrate that our design met intent.
This is an example (Fig. 1) of what it looks like after all of the hard work went into moving the Senate Recording Studio from the existing US Capital to the Capital Visitor Center.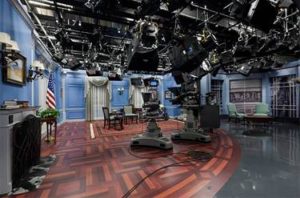 One of the problems presented to KITCO was to present a solution for the fiber optic interface from the rolling cameras seen below, to the floor junction boxes.  Evidently, the old solution ended up being a point of failure in the past for the recording folks.  After some analysis of system dynamic range, we were able to recommend the use of an expanded beam connector for the camera interfaces.  These connectors are very robust, and was something that KITCO was able to scale from a ground tactical fiber optic solution for the US Army to be used in a bit less harsh environment here in the studio.  Integrating into the floor box was another design consideration.  We were able to easily hurdle by creating and using an in-line fusion splice solution and an angled face plate to allow enough room for the final solution to deliver a working product.
---
Senate Hearing Room Upgrades –
This picture (Fig.2) is an example of one of the many Senate Hearing Room upgrades that KITCO was able to support.  Each room consisted of approximately 24 Single Mode Interfaces, which captured all Audio/ Visual elements seen (or not seen) in the room.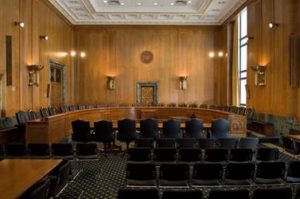 They will sometimes record (audio and video) of testimonials or hearings.  Sometimes, they don't want anything recorded.  You can't see it in the picture (by intent), but we were part of designing a fiber optic security disconnect for each hearing room.  In this way, if the Secret Service wanted to ensure a secure meeting, they were able to easily uncouple the fiber optic signal from a single point, which 'killed' all communications in and out of the rooms.   Of course, making all of this work/fit into a very small area was sometimes a challenge, but the aesthetic outcome was worth the extra sweat and design effort.  The craftsmanship in these rooms are second to none.  The particular room is in the Dirksen building.
---
The Server Room –
The server room (Fig 3) is where all of the 'magic' happens.  When it comes to fusion splicing and acceptance testing,
there are few places on earth, colder than this room to accomplish same. Again,
this area manages all of the logical traffic from Figures 1 & 2.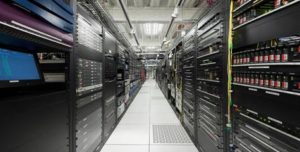 We have a few other shore sites where we were able to add value, so please don't assume that KITCO only supports AFLOAT network systems!
---

 Connectivity Delivered
DCAA Approved Accounting System