In 2012 KITCO was brought on for engineering support by Newport News shipbuilding to help plan and define methods that would support both physical and logical fiber optic design topologies aboard what is now one of the most technically advanced warships in modern history.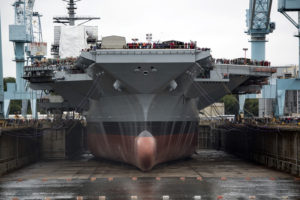 Yes, we do have certified fiber optic designers on staff, and they do enjoy being part of the design solution.   This engineering support ultimately positioned KITCO to provide highly specialized fiber optic installation, inspection, fabrication & testing support for more than 26 systems being integrated aboard the lead ship of her class, The USS GERALD R. FORD (CVN-78).  On this particular installation, KITCO installed over 4,000,000 linear feet of blown optical fiber, and fusion spliced and/or fabricated thousands of fiber optic connections.  We met Initial Light Off (ILO) dates for every single system, with 100% system operational verification testing (SOVT) for all fiber optic components where we provided support.
Newport News Shipbuilding is the Hallmark for what KITCO defines as 'true partnership'.
---
USS Gerald R. Ford (CVN-78) is the lead ship of her class of United States Navy Supercarriers. The ship is named after the 38th President of the United States, Gerald Ford, whose World War II naval service included combat duty aboard the light aircraft carrierMonterey in the Pacific Theater.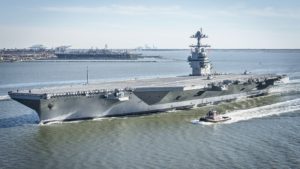 The keel of Gerald R. Ford was laid down on 13 November 2009. Construction began on 11 August 2005, when Northrop Grumman held a ceremonial steel cut for a 15-ton plate that forms part of a side shell unit of the carrier. She was christened on 9 November 2013. Gerald R. Ford entered the fleet replacing the decommissioned USS Enterprise (CVN-65), which ended her 51 years of active service in December 2012. Originally scheduled for delivery in 2015, Gerald R. Ford was delivered to the Navy on 31 May 2017 and formally commissioned by President Donald J. Trump on 22 July 2017.
---

 Connectivity Delivered
DCAA Approved Accounting System