USS Oscar Austin 
It is with great pleasure that we can say KITCO was afforded the opportunity to perform and contribute to the successful employment of the first unmanned air vehicle from a U.S. Naval Destroyer: the USS OSCAR AUSTIN (DDG-79)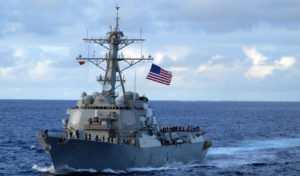 in an operational theatre.  Let that sink in, the very first time.  This means our fiber optic support efforts were instrumental in demonstrating the force-multiplying effects of deploying and integrating unmanned air systems with multi-mission surface combatants.   Our technical knowledge enabled the USS OSCAR AUSTIN to successfully operate the Scan Eagle System in a number of tactical scenarios that demonstrated the major impact unmanned air systems can have on intelligence gathering, surface surveillance, and reconnaissance.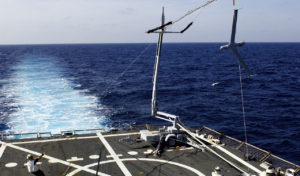 The resultant enhancements in target identification, maritime picture, and maritime domain awareness dramatically reduce the workload and risk to our Navy's personnel.  It was an absolute honor and our continued desire to do our jobs better than it has to be done, that greatly impacted the Navy's ability to succeed in the Global War on Terror.
---
Rapid Response/Fly Away Teams…
Our support aboard The USS OSCAR AUSTIN originated from a casualty report (CASREP).  Basically, US NAVY units and organizations require an up-to-date, accurate operational status for each unit.  An important part of operational status is equipment casualty information.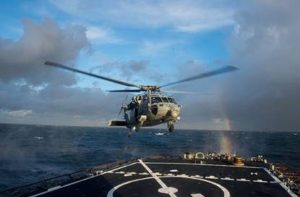 When a CASREP is reported, operational commanders and support personnel are made aware of significant equipment malfunctions that may degrade a unit's readiness.   KITCO REP's were called to action, added to the flight manifesto at Naval Operations Base (NOB) Norfolk, placed upon an H60, and transported to the DDG already underway with the carrier group.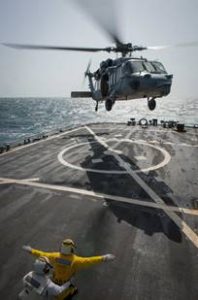 If you've never had the opportunity to ride in a Black Hawk, rest assured, the hydraulic fluid pumping out from above the main egress is considered 'normal'.  It's exhilarating to ride in an H60, but it's a whole new appreciation for actually landing on a DDG while maintaining its course underway.  It looked like we were about to land on a stamp floating in the ocean.  Of course, in November, the seas of the Atlantic can be a bit rough.  This required the ship's force to chain us down before exiting the helicopter.
We worked sixteen hours (16) straight to rectify the CASREP associated with the newly integrated GPS associated with the Scan Eagle System.  Basically, the fiber optics were not communicating.  It ended up being akin to tolerance stack, as several items added up to the latency.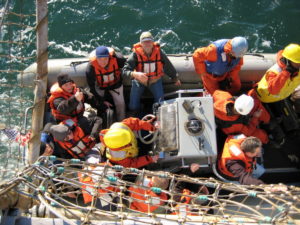 After successfully supporting our warfighters, we then got the experience of climbing down Jacob's ladder and getting into a ruggedized inflatable boat (RIB).  Again, it was November in the Atlantic Ocean, and even after steaming back to the mainland overnight, we were still approximately 7 miles offshore.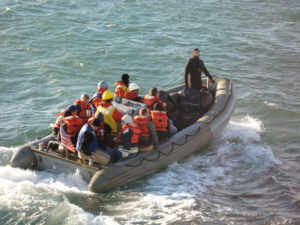 Needless to say, by the time we got back to Rudy Inlet in Virginia Beach, we were a bit wet and cold.
The takeaway here is that we have subject matter experts on staff that are ready to meet the call to action in any area on the globe to get your system back up to operational status. 
---

 Connectivity Delivered
DCAA Approved Accounting System