This Just In…
Navy Approved!
---
Army Approved!
---
Featured Products – not in the Military catalog
View Featured Products
---
Harsh Environment Connectivity Solutions…
Defined by Expertise—Refined by Experience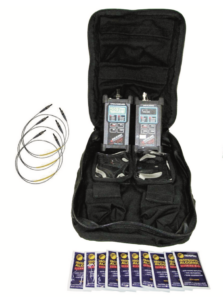 Over 20 years ago…
KITCO Fiber Optics was established to provide the tools needed for testing and terminating optical fiber. We created kits (hence the KITCO name) that included everything necessary for proper termination. Through the years, our expertise in Navy, Ground Tactical, and Aerospace harsh environment connectivity applications has grown. Today, we manufacture, integrate, and distribute a focused set of product offerings that meet our customer-defined needs and military standards.
Cable Assemblies for Rigorous Applications and Testing
KITCO manufactures a range of high-performance cable assemblies used in OEM harsh environment ruggedized systems and many defense platforms.  KITCO is also an innovator of test cables for the specialized applications in the aerospace and defense market. Measurement Quality Jumpers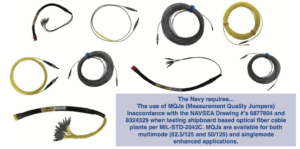 (MQJs) are test cables that are manufactured with ultra-high-quality connectors to be used to determine if attenuation (signal loss) and other key parameters on a fiber link meets specifications. The U.S. Navy requires the use of MQJs in accordance with the NAVSEA Drawing #'s 6877804 and 8324329 when testing shipboard based optical fiber cable plants per MIL-STD-2042C.  MQJs are available in both multimode (OM-1, 62.5/125um and OM-2, -3 & -4, 50/125um) and single mode enhanced versions.
KITCO manufactures a wide range of custom and build-to-print cable assemblies in its ISO 9001:2015/AS9100 certified facility. One such example are the Pierside UCA cable assemblies used to support ship-to-shore connectivity when in port. KITCO offers a full pre-terminated solution for operators and maintainers of this system including a custom corrosion resistant, light weight composite reel and supporting products including the Pierside Connectivity Termination Kit.  Example part#'s;
KITCO Part# KFO 30003: 500ft Umbilical Assembly w/Composite Spool Manufactured with Low Smoke/Zero Halogen (LSZH) Fiber
Kits for Every Application
As part of your full connectivity solution, we have the kits to provide you with all the tools you need for proper termination of fiber optics. Whether you are a seasoned technician looking for consumables, newly certified for shipboard work, or need a new tool for a specialized job, we have been there and already bundled it for you.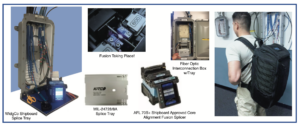 We developed the original Mil-Std 2042 Shipboard Installation, Test & Sustainment Kits. Our complete kitting line delivers solutions for Cleaning & Inspection, Fusion Splicing, & Fiber Optics Testing using best-of-breed technology to meet military and commercial standards. Learn more by reading our kitting solutions story.
Call Us! 757-518-8100
---
Spares & Support
Do you already have a 687281, 6872813, or 7085185 termination kit, but "misplaced" your ASIRT on your last job? Are you out of purple paper and not sure what to requisition? Do you have rack damage and you need to replace a couple dozen STs? No worries! Our sales staff and distribution partners are here to help. Whether you are resupplying your own kit or need to spec out a job, we are here to make sure you have the tools, components, consumables and test equipment to get the job done right.
---

Connectivity Delivered
DCAA Approved Accounting System